In my first post [part one], I reflected on the deeply troubling redemption of God. To say that the Bible is R-rated is an understatement, so I tried to overstate my case in Part I. After all, this is a theological reflection , and theology is a sail toward the implausible.
You may recall that I praised Daniel Melligan's almost-too-real spy fiction as "R-rated." Codename Hannah follows computer programmer, Milo Caldwell from his placid, cul-de-sac life to the dangerous world of counter-terrorism, government conspiracy, and whistle-blowing. Milo experiences the hedonism that comes with obscene amounts of money and the hell of becoming an enemy of the state. There are no outlandish car chases or death-defying acrobatics. Melligan's novel is troubling because of its realism. Moreover, unlike the hellish portions of Christian Scripture, the voice of God is all but inaudible in Milo's life. Milo's world is shapeless and void : he is the ethical equivalent of a golem.
I had a friend in seminary who was of the see-no-evil persuasion. Manny was a good person in a world of chaos and I admired him for this. But he was always a bit too unrealistic for my tastes. Manny once asked his priest (a hard-boiled realist) whether religious folks should be allowed to watch R-rated films. His priest replied, "Religious folk should be the only people allowed to watch R-rated films, because they're the only folks who will understand them." Manny's idealistic blinders might have kept him out of a bit of trouble, but they also blinded him to the bloody business of redemption.
Reflecting on his Screwtape Letters, C.S. Lewis wrote that the book might have been longer had he been less disturbed by his subject. Writing of temptation and soul destruction is and should be spiritually taxing. And yet there is an irony here too thick to ignore. Sometimes we find that we are closer to God in Hell than we are in suburbia. This is what Jonah learns in the belly of the beast and what Job learns staring into the eyes of the tornado.
I love and hate Martin Luther. I sometimes wonder whether we Christians would do better to avoid his writings altogether. But there is something intriguing about Luther's hard-boiled understanding of redemption when he writes:
"Do not let your sin stick in your mind, but get rid of it. Quit your despondency, which is a far greater sin… It must surely be that heretofore you have been only a trifling sinner, conscious only of paltry and insignificant faults and frailties… Therefore my faithful request and admonition is that you join our company and associate with us, who are real, great, and hard-boiled sinners. You must by no means make Christ to seem paltry and trifling to us, as though He could be our Helper only when we want to be rid from imaginary, nominal, and childish sins. No, no! That would not be good for us. He must rather be a Savior and Redeemer from real, great, grievous, and damnable transgressions and iniquities, yea, from the very greatest and most shocking sins… you want to be a painted sinner and, accordingly, expect to have in Christ a painted Savior. You will have to get used to the belief that Christ is a real Savior and you a real sinner."
Luther's advice is not for everyone. I could probably stand to ignore this advice more often than I heed it. But there might be some truth here. Both the moral relativists and rigid puritans among us refuse to look at human darkness in high definition. The former refuses because sin is nothing but myth and the latter because of false piety. The virtue of books like Jonah, Esther, John, the Divine Comedy, the Screwtape Letters, and almost anything written by Flannery O'Connor will be lost on these folks. Sophisticated imaginations like that of Daniel Melligan will go unappreciated by many religious folks. Perhaps these see-no-evil parishioners will be helped by Luther's depraved advice.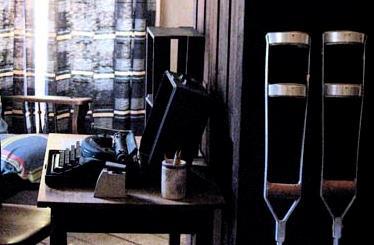 Flannery O'Connor's writing studio with her typewriter and crutches. She suffered from SLE (systemic lupus erythematosus).

"Later he saw Jesus move from tree to tree in the back of his mind, a wild ragged figure motioning him to turn around and come off into the dark where he might be walking on the water and not know it and then suddenly know it and drown."

Flannery O'Connor
Wise Blood
Anthony Le Donne, Ph.D. (Durham) is an expert in Second Temple Judaism and the Bible. Currently, he serves as adjunct professor at the University of the Pacific in Stockton, California. Dr. Le Donne and Daniel Melligan have maintained a twenty-five year conversation about life's most important topics.

Posted on October 15, 2013 by Anthony Le Donne, Ph.D.